ABOUT THE GAME
Build spaceships and protect the Solar System from invading aliens in this novel tower defense strategy game.
The game is the sequel to the "Spacewolf" arcade space shooter, where you had to defend the Milky Way from invading aliens. In this new Spacewolf 2 episode, the saga continues. Your team captured a space station while some unknown alien spaceships attacked the Solar System. A secret alien communication was intercepted revealing some dark secrets and you have been authorized to intercept the incoming threat. Your task is to investigate and defend the world again!
3 GAME MODES
Solve the mystery surrounding the unknown spaceships in the campaign mode through 11 levels, test your endurance in the endless mode against ever-increasing aliens or try yourself in the challenge mode having restrictive rules.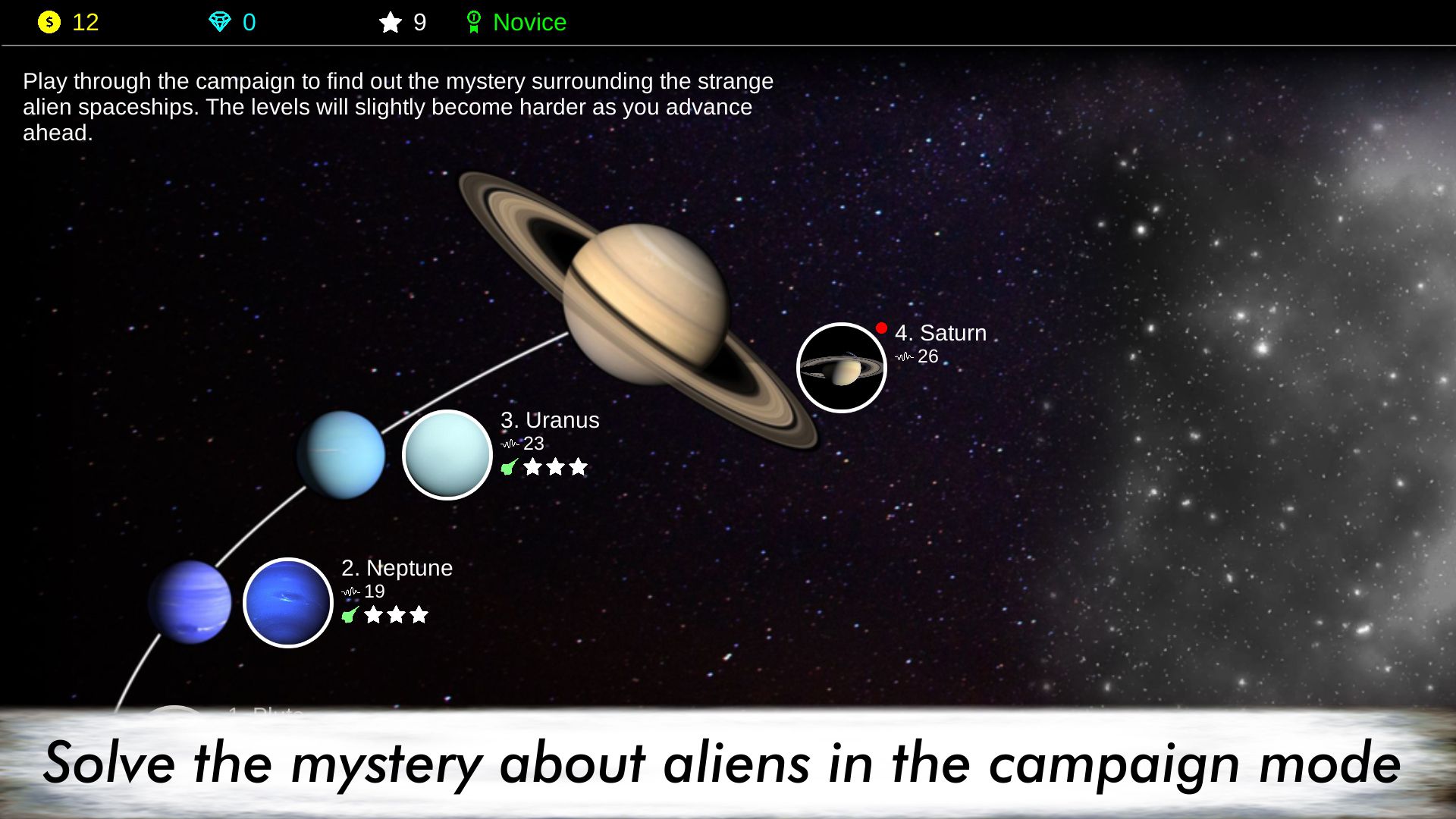 SPACESHIPS
Research 5 spaceship classes with various tower types. Each spaceship receives a unique special ability with an area effect when upgraded to the maximum level.
12 concept images will be available showing the technology tree and various other aspects of the game. As an example, the weapon loadout of the spaceship Destroyer is shown below.
GUN TOWERS
Install gun towers on the weapons slots of your spaceships. The effectiveness of guns varies for each enemy and some even need energy to operate. Every gun has a special ability which is unlocked when they are upgraded to their maximum level.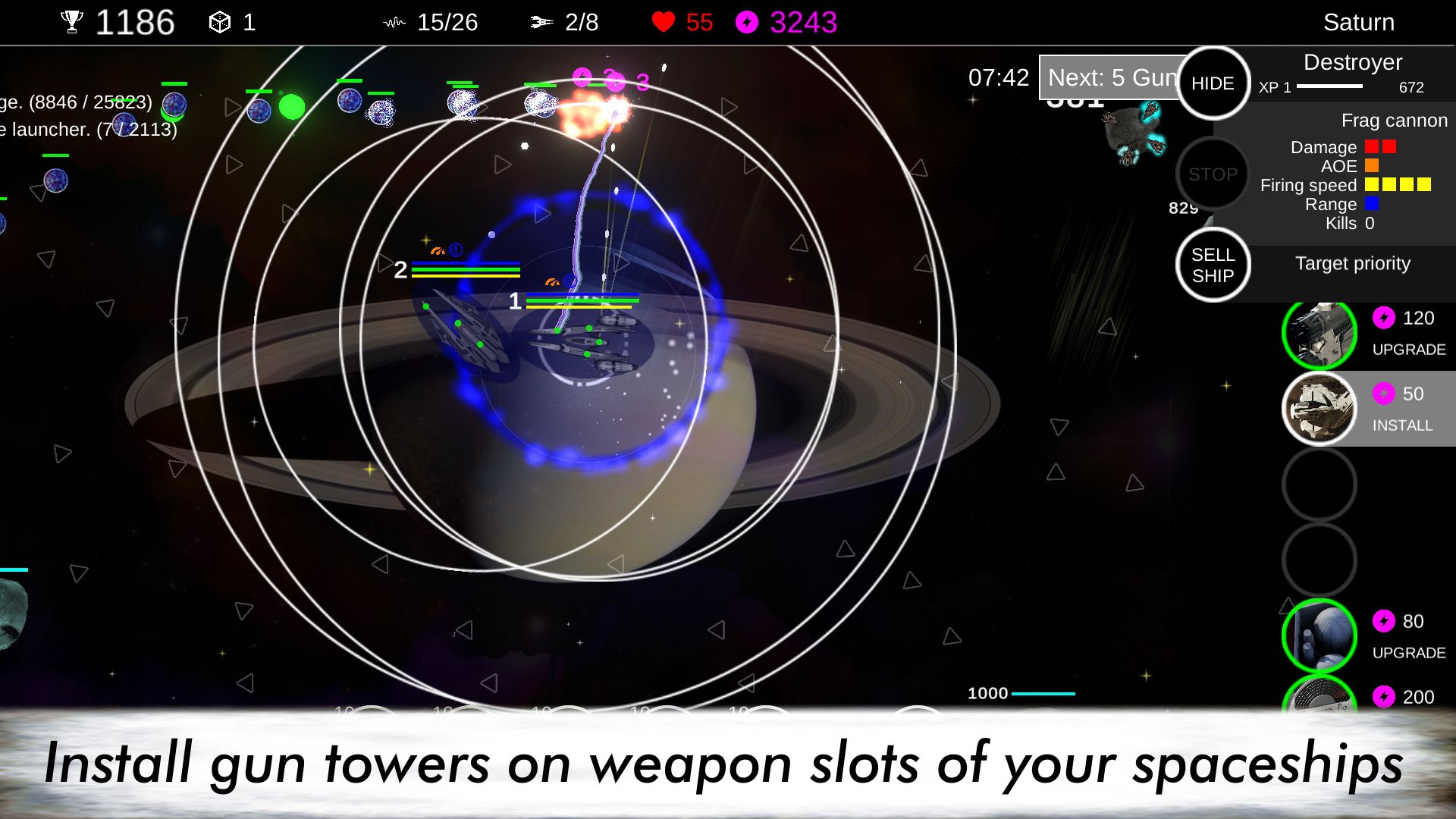 TECHNOLOGIES
Research new gun tower types, defense and utility techs for the spaceships, and even the modules of your space station.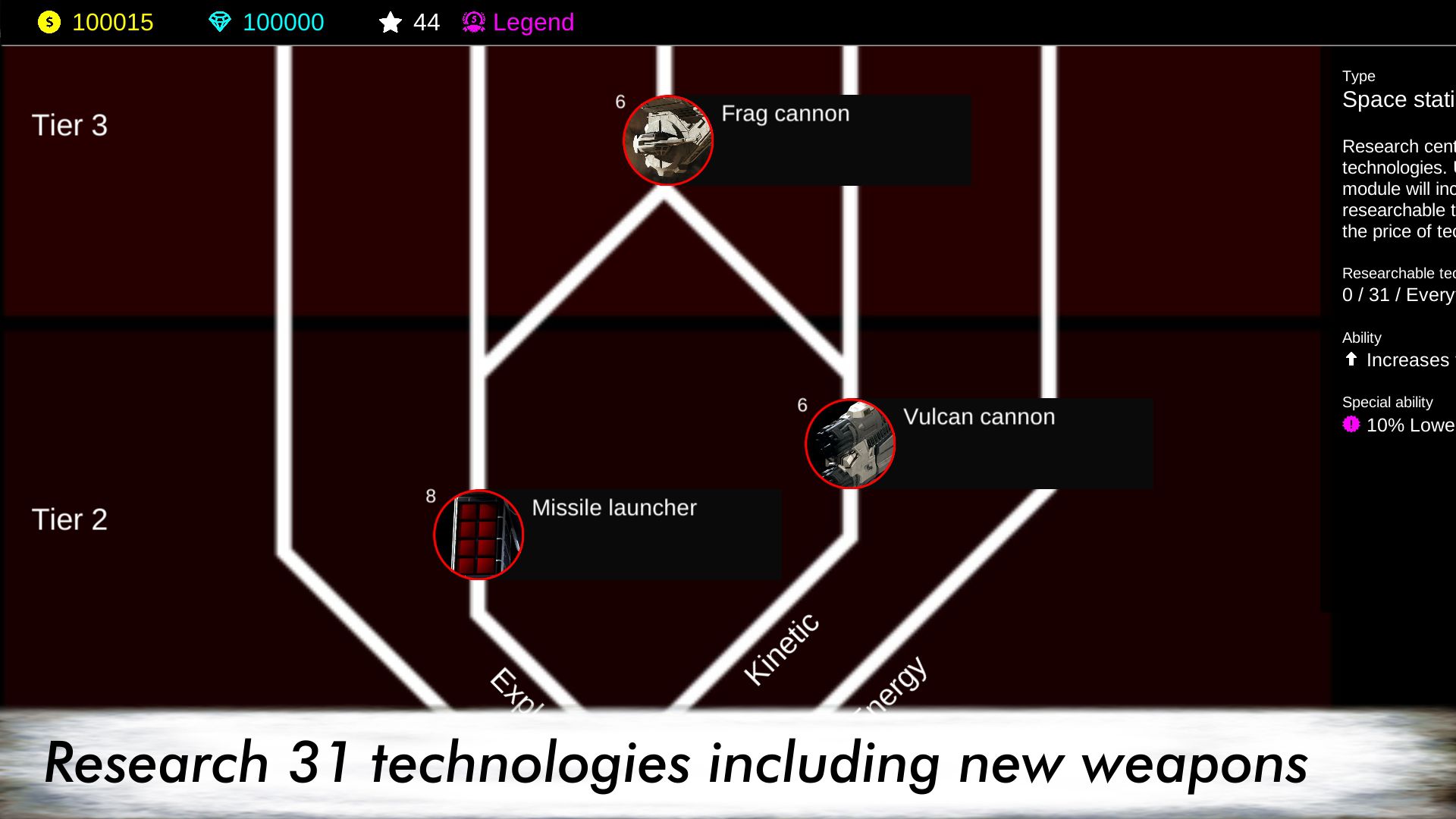 SPACE STATION
Discover your space station as you progress through the campaign by unlocking and upgrading its modules. Each module has specialization for a certain task that will help you along the campaign and every upgrade gives some ability.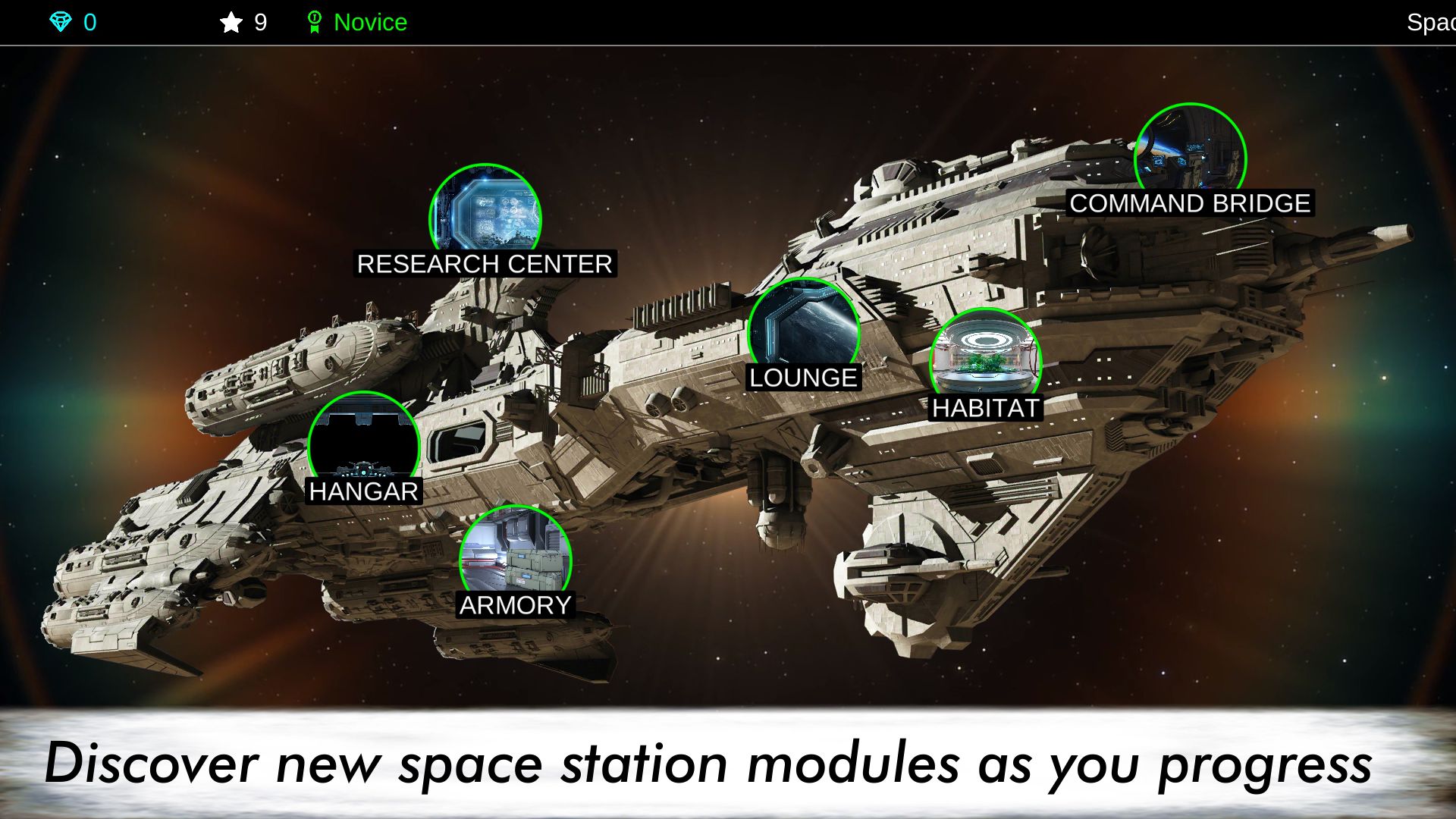 CARDS AND ACHIEVEMENTS
Unlock 50 achievements and collect cards to enhance your abilities. There are 28 cards in total in the game.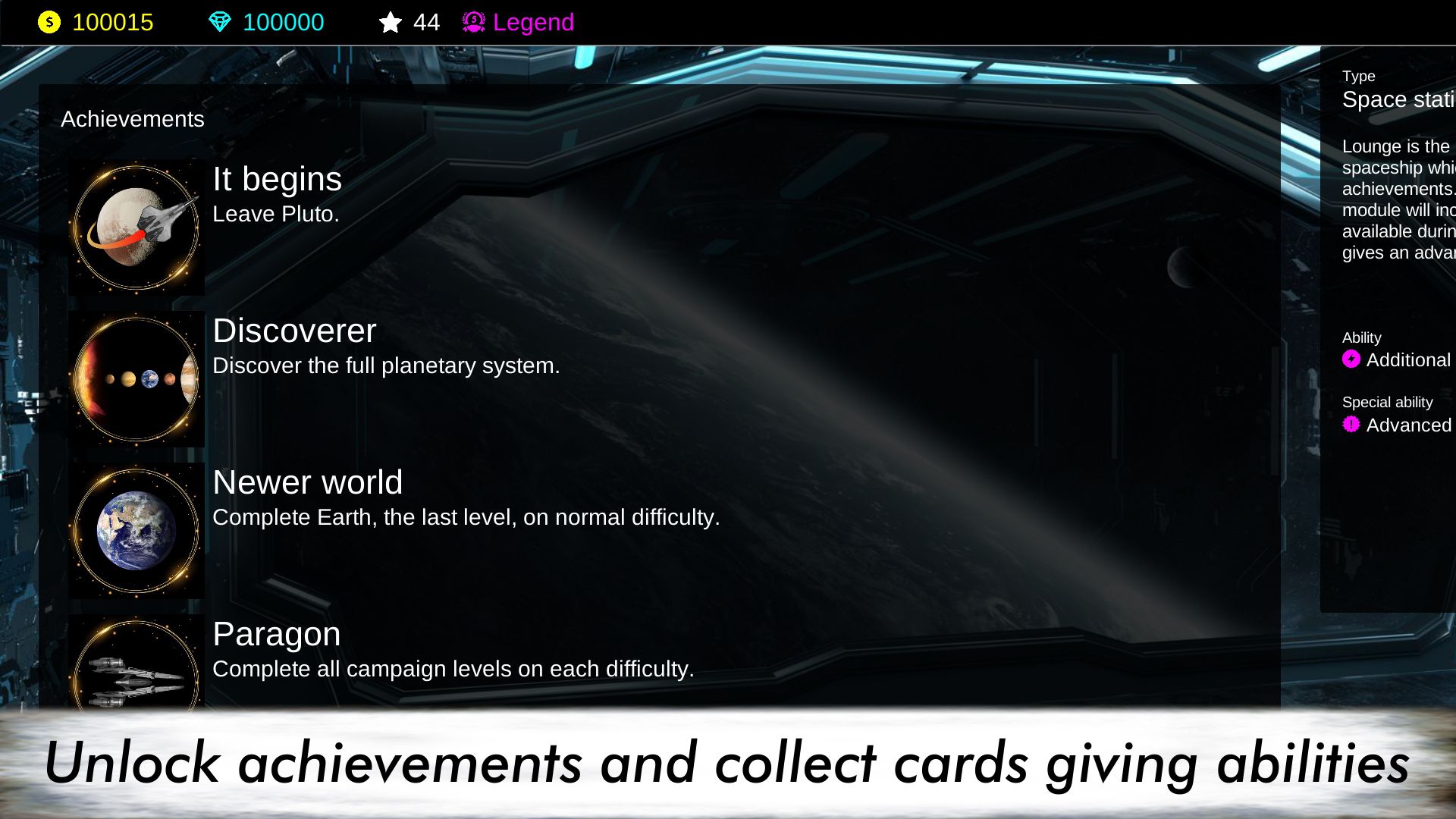 LEADERBOARDS
Put yourself on separate leaderboards and try to compete for the top position. Make sure to order the right spaceship for your strategy, as no spaceship can operate all the guns.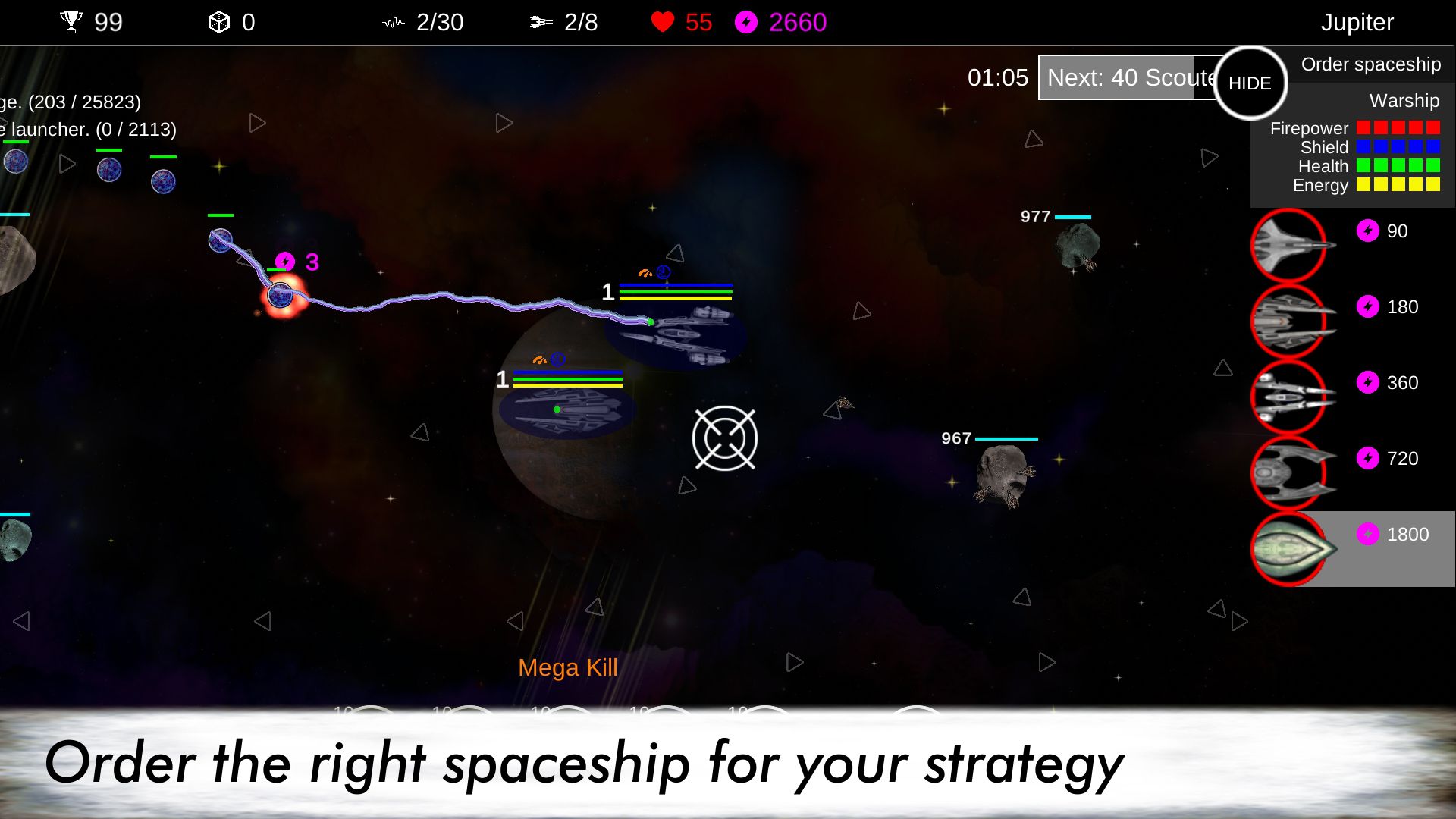 DAILY QUESTS
Complete daily quests for randomized rewards. There are additional rewards when their module on the space station is upgraded. Alien spaceships drop 3 kinds of loot crates that can be opened at the space station for various randomized rewards. Also, there are rewards for consecutive daily logins as well.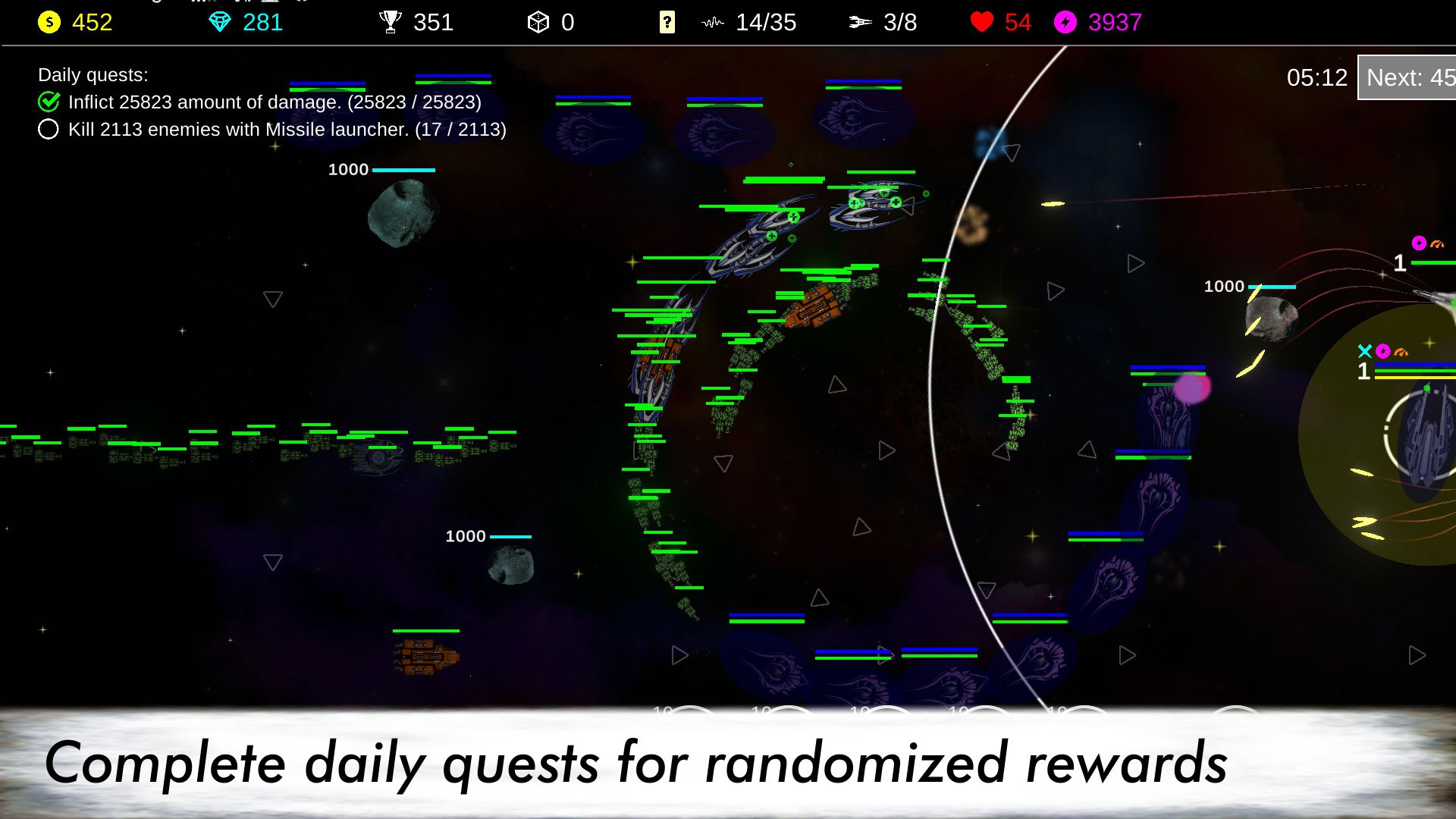 GAME MUSIC
"This out-of-the-world instrumental is both sumptuous and atmospheric, with more than a nod to early Numan, the early synth era, not his early-early post-punk phase." (Green Banana)
The theme song titled "Spacewolf 2 Theme" is available on online streaming platforms. The music of the game levels is available in asset packs "Evolving Frontiers" and "Eternity Time Warped" at Unity and Unreal stores.
DOWNLOAD FROM GOOGLE PLAY
The game is free to play, min. requirement is: Android 5.1 Lollipop, API level 22